Arcade Games
Board Games
Puzzle Games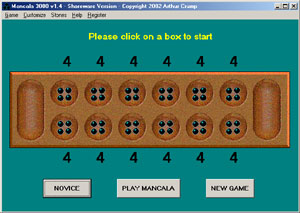 Mancala
is one of the oldest
two-player strategy games
in the world.
This version of the game, known as
Kalaha, has been played for
more than 7,000 years throughout
Asia and Africa
The rules are easy to learn, but the
strategy involved in winning is quite
challenging!
Mancala 3000 offers something for both
the new and experienced player.
It allows you to play against a computer
opponent at Novice or Expert level.
Register Mancala 3000 Today for the Special Internet Price of $10:
Or,
DOWNLOAD the shareware version of
Mancala 3000
The file mancala.exe is 1.2 mb in length.

Download mancala.exe
mancala.exe is a self-extracting file.

To install Mancala 3000
Download mancala.exe to your computer

Double click on the file mancala.exe to uncompress it.

If you have trouble finding the file on your computer, click on the 'Start' button. And then click on the 'Find' option to search for 'mancala.exe'

Follow the Windows installation instructions

Start Mancala 3000 by double clicking on its Icon
Card Games
Casino Games
Other Titles